Butch Cavendish
Talk

0
115pages on
this wiki
Butch Cavendish is the ruthless leader of a vicious band of outlaws.
Butch Cavendish is a vicious outlaw who seems to rob and kill just for the sake of doing it. When he and his gang of crooks were being pursued by the Texas Rangers he sent a man named Collins to lead the Rangers into a trap. Collins led six Rangers into a narrow pass called Bryant's Gap where Cavendish and 35 men were waiting in ambush. They killed all of them except John Reid. He also cut out Dan Reid's heart and ate it. 
Being convinced that all six of the Rangers were dead, Cavendish went about his business. Slowly, his organization began to crumble as members of the gang were pursued and captured by a masked man and an indian. Eventually, the Lone Ranger caught up with Cavendish himself, who was jailed for his crimes with a life sentence.
The Lone Ranger, at first, had no origin story. But after the
1938 serial
introduced the ambush idea, this origin was incorporated into the radio program. Butch Cavendish was not content to stay in prison however, and for the
20th anniversary
of the program, he escaped for a final showdown with the Lone Ranger at Bryant's Gap.
Bill Saunders
played Cavendish on the radio program.
Television
Edit
Glenn Strange played Cavendish in the three-part origin story of the television show. After the ambush of the Rangers the Cavendish Gang embark on a plan to take over the town of Colby. The plan is foiled by the Lone Ranger and Cavendish is sent to jail.
In 1981's "
The Legend of the Lone Ranger
,"
Christopher Lloyd
acted out Butch Cavendish as a disgraced former Union Army major with the real name of Bartholomew Cavendish. After being court-martialed by General
Ulysses S. Grant
and dishonorably discharged from the Union Army, Cavendish forms an army of his own. He manages to kidnap the now-President Grant and hold him for ransom before the Lone Ranger arrives to save the President.
Dynamite Entertainment
Edit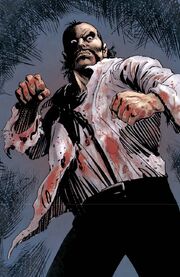 In the 2006 Dynamite Entertainment comic book series Butch Cavendish likes to run things more behind-the-scenes. This version of Cavendish is a politician and railroad magnate who orders the ambush of the Rangers from several states away. The Lone Ranger is able to piece together enough information to trace it all back to Cavendish, however.
The Lone Ranger 2013
Edit
Unlike the old films and T.V. shows, he dies in the 2013 movie.