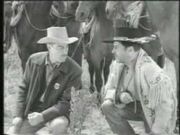 Daniel Reid Sr.
a Texas Rangers Captain, was the older brother of John Reid, the man who becomes the
Lone Ranger
.
In most versions of the Lone Ranger story, Dan Reid is a captain in the Texas Rangers. He leads the group of six Rangers who follow Collins into the ambush at Bryant's Gap. Dan is killed in that ambush, leaving behind his wife, Linda, and baby boy, Dan Jr., who are travelling to Texas from the east. Very little is known about Dan's life prior to the ambush.
Television
Edit
Tristram Coffin portrayed Captain Reid in the television series.
Dynamite Entertainment
Edit
In Dynamite Entertainment's comic book update of the Lone Ranger, Dan Reid does not lead the Rangers into Bryant's Gap. He is a part of the group of six Rangers, led by his father, James Reid. Dan is killed in the ambush, leaving behind his wife and young son, who are living in Wyoming.
Though the recent motion picture that had starred Seth Rogen alongside Jay Chou made no mention of it, in radio, Dan Sr.'s son, Dan Jr., was not only the nephew of John Reid, the Lone Ranger, but also the father of Britt Reid, who used the alias of The Green Hornet. George W. Trendle commissioned the creation of, or created, both characters; the plots of The Green Hornet: The Radio Series even ran parallel to those of The Lone Ranger: The Radio Series.
Ad blocker interference detected!
Wikia is a free-to-use site that makes money from advertising. We have a modified experience for viewers using ad blockers

Wikia is not accessible if you've made further modifications. Remove the custom ad blocker rule(s) and the page will load as expected.